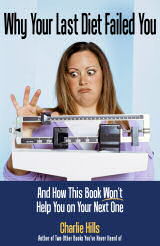 My twin separated at Birth, Charlie of BacktotheFridge.com, asked if he could stop by on his book tour for Why Your Last Diet Failed You and How This Book Won't Help You on Your Next One
. If you remember I reviewed his book last year saying "I have never met a MAN who shared almost my EXACT diet history. I mean from his experiences on the holidays, to taco nights, his take on diets and the low carb craze I never nodded and chuckled more while reading a book in my life." It's true and Charlie and I have chatted many times since then onlyl to discover even more similarities. :)
While Charlie is visiting I thought I'd through him a few of your questions as I did with Pastaqueen and DietGirl. It's becoming a nice tradition and I like reading other peoples insights and then responding. Charlie was nice enough to answer 3 questions but since he's a bit *cough* wordy I decided to break them up into a series. Here is the first.
Hi Roni! I was wondering what you may know about the acai berry diet and the colon cleanser that everyone is talking about from Oprah to Rachael Ray. Any insight?? Thanks! Loooove your site!!
Cathy
Charlie:
Hi Cathy,

From the beginning of recorded history, we've witnessed humanity's search for the elixir of life: a panacea that cures all ills, prolongs life, and, when used correctly, reverses male pattern baldness. Every culture, every society, and every generation seems to produce yet another candidate potion for the masses to drool over. In my own lifetime, about thirty years ago, I was convinced it was the Big Mac. I was sorely disappointed when I found out I was misled.

So let's take a look at the supposed list of benefits of the Açaí fruit: helps you lose weight, increases energy, detoxifies your body, aids sleep, smooths wrinkles, reduces cholesterol, … the list goes on and on.

Is your spidey sense tingling yet? At this point, way in the back of your head, you should be hearing your mother say, "If something sounds too good to be true, it probably is." And if you look closely, you may find that the people talking the most about the Açaí fruit are the people selling it. Coincidence?

But wait, if Oprah and Rachael are talking about it, it must be good! They wouldn't mislead their loyal fans, would they? Well, let's look at the facts. On Oprah, the fruit has been mentioned by Drs. Perricone and Oz. Perricone called it "one of the most nutritious and powerful foods in the world." Oz said it's "a powerful antioxidant." That's it. Neither mentioned weight loss and neither implied that it cures diabetes, cancer, and ingrown toenails.

And Rachael? Here's what her web site said: "Many of you have brought to our attention concerns regarding solicitations involving Açai Berry and Wu Long Tea products that bear Rachael Ray's name or photo. Please note that Rachael Ray has not endorsed any Açai Berry or Wu Long Tea products, and she is not involved with the solicitation of any such products. The use of her name or photo in connection with these solicitations is unauthorized."

In other words, a whole bevy of snake oil salesmen caught whiff of a trend, took a few remarks out of context, and implicated famous talk show hosts. They're not out to shrink your belly, they're out to shrink your wallet.

Unfortunately, all this overshadows the fact that it's still a pretty good fruit. Just don't expect it to restore your 401(k) balance.
Roni:
I couldn't have said it any better than Charlie. Being an ex-quick fix gal myself I understand the draw of a magic potion that would allow me to live a lazy lifestyle, eat all the pizza I want and look like a Victoria Secret model. But alas, I've learned the hard way that 1.) I will never look like an airbrushed Victoria Secret Model 2.) Pizza, albiet tasty, isn't healthy for me in hordes and 3.) Lazy was really the result of me feeling sorry for myself.

Once I stopped looking for the quick fix and focused on learning how to eat a balanced healthy diet. Things started falling into place. It didn't happen overnight. I didn't drop 30 lbs in 30 days or "detox my system". I simply learned (and am learning) self-acceptance, portion control, balance and patients.

Cathy, Don't fall for the hype. I'm sure the Acai Berry has some health benefits, as so blueberries, pomegranate and chocolate. I'm also sure there is *some* truth to cleansing the ole pipes but none of these things will help you drop pounds if you aren't willing to change you habits. Sorry to say and boy how I wish it wasn't true!
Charlie:
I couldn't have said it any better than Roni. Although, for some strange reason, I've really got a hankerin' for one of my world famous acai, blueberry, pomegrante and chocolate smoothies right now.
Stay tuned for Parts 2 and 3. In the mean time check out his previous stop in the tour. Tomorrow he should be visiting Lynn.